PRODUCT IMPORTANT DESCRIPTION
1.New Sharp Kitchen Safety Secure Knife Sharpener Suction Chef Pad
2.It is widely Suitable for sharpening kitchen knives,fruit knife,scissors,bread knives,chef knife.
3.Efficient and sharp sharpening effect.
4.The thoughtful design of non-slip sucker is not easy to cut.
5.Back and forth 2-3 times a blunt instrument immediately sharp.
6.The quality and quantity of new material plastic accessories non-toxic and odorless.
7.The first to find a clean surface can smoke sucker.
Placed desktop sucker do not have air and then firmly press the handle.
This sharpener not suitable for ceramic knife,please use with caution!
Delivers precision edge in 2 seconds – NO EXPERIENCE REQUIRED! Multi-Functional multi-blade sharpening tool makes knife sharpening AS EASY AS 1, 2, 3 – Simply calibrate the point, the tip, and add a precision edge to your knife. Really! Try it, you'll see, it's THAT easy.
Safe & Efortless – NON-SLIP SUCTION BASE: Nonelectric knife sharpener with sleek, ergonomic SAFETY handle, non-slip rubber base and patent top side suction pad provides SUPERIOR stability and sharpening power, without risk of slipping, sliding or jabbing.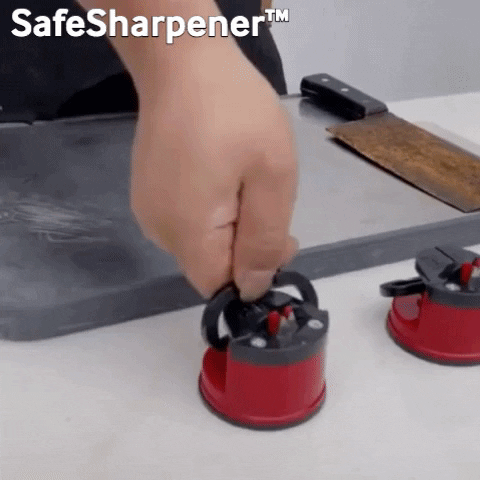 Fits in small spaces – Don't let its compact size fool you! It makes easy work of sharpening all kinds of blades then tucks neatly away in a small kitchen drawer.
Fast and convenient
Suitable for most knives, such as chef knives, butcher knives, hunting knives etc..


High-quality and durable materials
Although the imitations are similar, they all have steel blades that will stop working after some time.
The tungsten carbide blade has unlimited resistance usability.